Last month, we made the decision to close one of our pro bono services, One Page Impact Reports.
The idea for the tool came about in 2015 when we partnered with Intentionality, to build an online tool enabling users to create One Page Impact Reports. Intentionality were a small company which provided various services to charities and social enterprises including advice on One Page Impact Reports. Our online tool was inspired by, and based largely on,the webinar given by Steve at Intentionality:
We were initially inspired by the number of users and positive early feedback, which allowed us to clarify sections and fix bugs. However, in 2016 Steve closed Intentionality and we were without a partner. This meant that the number of new users dropped. We still kept the site live, responding to ad hoc requests and issues when required. 
Although it took minimal time to support, in 2019, we realised that we either needed to make further developments on the One Page Impact Report tool or focus our energies elsewhere. Without a partner with expertise in the area, it was felt best to retire the tool and focus our energies elsewhere. 
Read our One Page Impact Report (the last one ever created!) with more details on our impact and what we learnt from the project: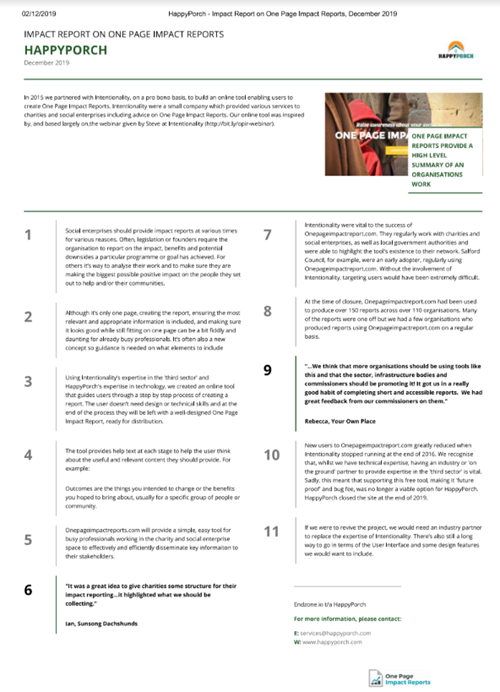 You can also see an example of 'real world' use of our tool at Your Own Place.