Explore circular economy with us
Subscribe to our monthly newsletter and receive exciting news about the role of digital in the Circular Economy.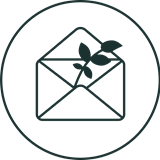 Hi, we are HappyPorch.
We believe that all of us (our team, you and society in general) need to do more than react to climate change and loss of biodiversity and all the other issues caused by our waste. Rather, we need to find ways to solve those issues AND improve life on our planet. There is a chance that, with Circular Economy approaches, we can contribute to these regenerative solutions.

We like to explore the role of digital, software and technology in the Circular Economy. Exploration is the key word here. And we thought it might be beneficial to others as well to share some interesting articles/news we came across.
So we decided to write this monthly newsletter to share some interesting facts and insights into the Circular Economy. Each month a different member of our team will share some things they enjoyed exploring and we hope that you will enjoy reading about it too.
Check out our Newsletter issues: